ALBERT BOSK, THE FIRST 104 YEARS

At the age of 104, Albert Bosk continues to amaze friends with his sharp mind and sense of humor. He has shared many memories of a very colorful life.

Albert's Family History

In 1895, Albert's father Johannes emigrated as an 18 year old from the village of Petalax, Finland. Upon arrival in the USA Johannes changed his name to John. Albert's mother, Emilia Sofia Sjöholm was also born in Finland. She grew up in a village named Pedersöre. Tragically, Emilia's mother died when Emilia was only four years old. She was abandoned by her father but was taken in and cared for by farm families in the village. She moved from farm to farm throughout her younger years. When she was 17, Emilia emigrated to Escanaba, Michigan, where her uncle was living. John and Emilia met in Escanaba and were married in 1904. Their firstborn son was named Arvid, and their second son Albert was born on the 23rd of February 1906. John and Emilia became homesick and decided to move their young family back to Finland in 1908. The ocean liner disembarked in Hull, England. The trip to Finland was with a steam ship named "Arcturus." The Båsk family arrived in Petalax, in the province of Ostrobotnia, a few days before midsummer 1908. The timing of the return was extraordinarily poor, as John Båsk could not find a job. At this time, Finland was a grand duchy of the Russian Empire. A second period of oppression, which was part of the russification attempts of Finland, was in full swing. (Please see http://www.langstedt.us/newpage1.htm for details.) The Båsk family subscribed to a Swedish language immigrant paper from New York called " Finska Amerikanaren." (The paper is now published under the name "Norden") John could read that things looked much more promising in the US than Finland at this time and he decided to return to the U.S. He left by himself for America in March of 1909. His wife Emilia was pregnant with their third son, August, who was born in October 1909. Emilia and the boys lived first with her brother- in-law Kalle in the wilderness of Hultholm. Albert remembers this time in Hultholm as a miserable period when hunger was a daily guest. There was no school in Hultholm and Emilia wanted to move to a location where her boys could go to school. Albert had already learned to read at the age of four without any formal schooling; but Emilia wanted her sons to have a formal education. The family moved to a 40-acre farm, which was a mile and a quarter from the school in Petalax. The purchase of the farm was possible through a bank loan and a service contract in favor of the previous owners. In 1915, during World War I, Albert's father John returned to Finland from the United States. He settled back in with his family on the farm his wife had purchased and became a farmer. John hoped that he could once more return to the US, but that wish never became a reality. The American dream did become a reality for his two sons who were born there and eventually returned to land of their birth.

The years in Finland Albert's years in Finland was during the formative years of Finland that eventually led to Finnish independence from Russia. The Finns declared independence from the Russians in 1917. The war that broke out became bloody as the Finnish socialists joined the Russians and organized themselves into "Red Guards". The Russians had 100,000 men in their troops that occupied Finland. There was considerable interaction between the troops and the civilians. Albert points out with some pride that none of the Petalax girls got involved with Russian soldiers while the girls from the neighboring village of Molpe had five children with Russian soldiers. The troops were spread around the country and there was also a garrison in Albert's hometown of Petalax. There were infantry and 40 cavalry horses in town. The troops were quartered in the stables with the horses, but the officers had taken possession of a house belonging to the cantor. The people who supported Finnish independence organized into the "White Guard" organization while the socialists armed by the Russians established the "Red Guards." Albert recalls how the local population was fearful when the hostilities broke out, but there was no bloodbath on the civilians in Petalax. Many of the troops were conscripts from the Baltic countries who had had their fill of the World War, the October revolution and the Russian military. They were not eager to die for the Union of Soviet Socialist Republics. One of the soldiers was from Estonia who spoke Swedish and Russian. He was a key person in the arrangement where the Russian soldiers surrendered to the White Guards and were transported back to Russia by train. Albert's father John was gone for a few days for guard duty in escorting the Russian soldiers via the towns of Vasa and St.Michel to Russia. . The revolution did not cost many lives in Petalax. Only one local person, Arthur Lillbacka, died in a battle fought in Lempäälä.

After the Revolution

The Russian occupation of Finland lasted 110 years. People who had aligned themselves with the oppressors were faced with a moment of truth as soon as the Finns tasted freedom. Albert recalls how stirred the people of Petalax were when payback came to their village. The Lutheran minister in Petalax was a man named Kaarlo Wilenius. He had a son who had been an officer in the tsarist military and then served as Chief of Police in the town of Jakobstad. A man knocked on the door of the minister's residence on Jan 7, 1918. The minister opened the door and the man asked to see the former Chief of Police. The minister's son came to the door and was immediately shot six times by the unknown person. The murder was never solved. The local residents believed the murderer was a man named Oskar Peltokangas. The motive for murder was believed to be an incident which had taken place in 1905. Activists opposing the Russian regime had imported weapons in preparation for a revolution. The weapons were bought in England and came to Finland on a steam ship named "John Grafton." The ship ran aground and most of the over 15,000 rifles and 2.5 million rounds of ammo wound up on the bottom of the Gulf of Bothnia near the town of Jakobstad where the now murdered Wilenius was Chief of police. Wilenius was relentless in going after the activists, who now took their revenge. The revolution was followed by starvation. People in the neighboring village of Molpe had managed to kill seals and the blubber contributed to food supply. The Finns also managed to get food from the USA. The food from America was financed with a loan from American banks, which was paid back over the years and gave the Finns the reputation of being the only country that paid back foreign aid. Albert recalls even 92 years later how good the bread tasted that was made from American "Graham" flour.
Albert's Education
Albert started school at the age of seven in Petalax but he has no pleasant memories of his first teacher Johan Jakob Lindholm. Albert remembers him as a religious fanatic whose teaching methods required his students to recite from memory, word by word. Lindholm was fired from his teaching position and was replaced by Valter Norrback who had outstandingly modern teaching methods. Albert appreciates Norrback to this day for making students exercise their brains by memorizing facts. Albert attributes his ability to remember historical details to Norrback's early instruction. Albert finished school and got a job as a store clerk in a co-op named Vasa Andelshandel. He had plans to stay in retailing business and attended a vocational school "Vasa Handelsskola" where he received training for merchants in 1923-25.
| | |
| --- | --- |
| | |
| Mercantile student Albert Bosk Vasa Finland 1924 | Albert and Arvid Bosk, Escanaba Michigan 1929 |
Albert the Emigrant
Albert was 20 years old in 1926 when he returned to the USA. He was born in Michigan so after a visit to the American consulate in Helsinki he had the paperwork needed for a returning citizen. He left Finland through the harbor in Turku with a steamer headed for Stockholm. A train took him to the Atlantic port of Gothenburg. The Swedish liner "Drottningholm" sailed between Orkney and Shetland and on the other side of the Atlantic it first let off the immigrants to Canada in Halifax. The liner then continued to New York City. Because he was American by birth, Albert did not come through Ellis Island. Albert's older brother Arvid had emigrated a couple of years earlier and had settled in his childhood hometown of Escanaba, Michigan. Arvid worked for the Chicago Northwestern Railroad and earned 63 cents/hour. He spent all his working years with the same employer. Escanaba was also Albert's planned destination, but after arriving in New York City he thought, "now is the time to look around in the big city." He found lodging with Kalle Stenbacka in Brooklyn. Stenbacka had also emigrated two years earlier from Petalax and he knew another emigrant from Petalax who was a construction entrepreneur. Albert got a job with him, but the employment lasted only four weeks. Albert's salary was $5 for an 8-hour day. Albert's opinion of his former employer after 82 years is: "he was a greedy son-of-a-bitch." Albert soon found another employer who started him off with $8 per day. Later, when Albert had learned the basics of carpentry, his new employer increased the pay to $12 a day.
Albert Bosk, Carpenter
Albert's home language was Swedish and he had no knowledge of English. It was therefore difficult for him to find new jobs. Albert made an effort to learn English by reading newspapers and by talking to workmates and others. He worked three years building the George Washington Bridge. He also worked for Donald Trump's grandfather.
Flooring Specialist
Albert is not a large man and he realized early on that he had to find a specialty where skill is more important than brute power. Albert specialized in making floors: Parquet floors, hardwood floors, strip floors, plank floors, floors of all kinds. Many people have walked on floors made by Albert Båsk. He hammered in floors in the Empire State Building for nine months. Albert's skills improved and he proudly declares that he could eventually make almost perfect floors. That skill was golden during the depression when others were looking for work and Albert had steady work.
Albert Settles in New York City
Albert's original plan to settle in Escanaba, Michigan was disrupted, as previously mentioned. Albert worked in New York City until 1943. He did however visit his brother Arvid in Escanaba for three months in 1929 and this visit convinced Albert that he had made the right choice by staying in New York. Albert is of the opinion that the only establishments that made any money on Escanaba were the saloons and the whorehouses.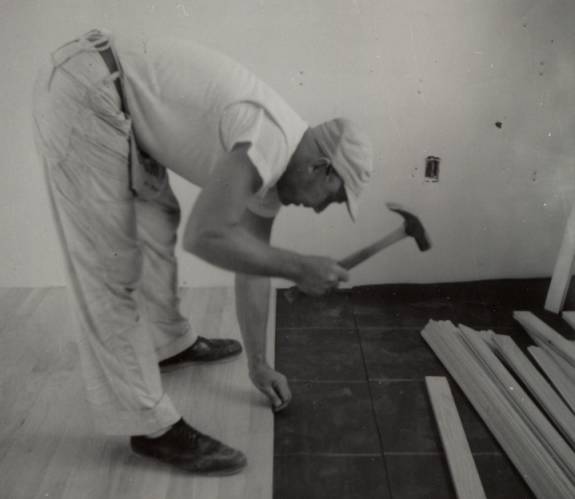 Albert Bosk Sept 1960
Ferment In the Finnish Immigrant Community
The Soviet Union sent out their propagandists to convert recent immigrants into moving to Soviet Carelia. Carelia is north of Lake Ladoga and there was to be a Finnish-speaking workers paradise utopia. One of the agitators that Albert met and heard speaking in Brooklyn was Aino Kuusinen, whose husband Otto Ville Kuusinen eventually led a Quisling type regime fronting for Stalin during WWII. Albert noticed that Kuusinen's message was how wonderful it is going to be, not how good it is now. Albert was not tempted, but the communist propagandists were very successful in their recruitment efforts. Finnish immigrants left by the shipload. Albert's future mother in law was one of the people who moved. She left in 1934. The conditions in the Soviet Union were atrocious and she died from typhoid within a couple of years. There is an estimate that about 20,000 (twenty thousand) of the Finns that moved to Soviet Carelia perished in the Gulag. A few of Albert's acquaintances came back, they did not want to talk about their stupid mistake so many of them moved to other states where they could start with a blank sheet. Albert knew some house painters that came back. They said that there was no need for house painters as there was no paint.
Albert Starts a Family
Finn Hall in Brooklyn was a haven for communists at this time and although Albert was not a communist, he did end up finding his wife at Finn Hall. Albert says that because he did not speak English or know of any Swede-Finn organizations, he was short on options for meeting people so he headed to Finn Hall. There his eyes fell in a Finnish-speaking immigrant girl from Pielavesi. Her name was Silvia Juhiainen. They married on Jan 3, 1935. Together, they had three children, two girls and a son, all have now passed away. Albert has living grandchildren.
| | |
| --- | --- |
| | |
| Say Cheese! | Daughters Alice and Sylvia |
Albert Goes North
The United States built three military bases during WWII in Greenland. Albert knew a contractor who was looking for Scandinavian carpenters who were accustomed to work in a cold climate. The pay was good and the contracts were long so it was steady work. Albert traveled "in style" to Greenland in June of 1943. Huge C54 transport planes took the workers from Presque Isle, Maine to Greenland. Albert helped build barracks and huge hospitals for the military. In the fall of 1944 it became clear who was going to win the war. The unused buildings were abandoned and Albert came back to New York.
Albert goes South and Southeast
In Greenland, Albert had met many coworkers and building contractors who worked abroad. One such coworker asked Albert if he would be interested in going to South America. The proposal was lucrative so Albert left in October of 1947 for Venezuela where Shell was building a refinery at Lake Maracaibo. When that refinery was built, Albert moved to the Netherlands Antilles in Aruba where Shell built another refinery. In December of 1948, Albert returned to the US.
Albert's employer in Venezuela was Raymond Concrete Pile. After six months in New York, Albert traveled to Africa for another project the company was building. He worked a year in Monrovia, Liberia where he experienced another revolution. Things got uneasy when there was a sergeant in the army that led an uprising. The President was disposed of and the vice President was murdered on the beach. A lot of people were killed, but none of the American workers were harmed.
Home. Sweet Home.
Throughout the 1950's, Albert worked in the New York City area. Albert and Silvia started to look for a safer place to live after their neighborhood in Brooklyn became dangerous with criminal elements from Puerto Rico. Their children had grown up and moved away. They purchased a 147-acre farm in idyllic Spencer New York. Albert continued to make floors for a few years for a company in Ithaca NY. Silvia passed away in 1979. Albert sold the farm and has lived in facilities that are built to accommodate the elderly. Albert is relatively self-sufficient and is capable of making some of his own food. Kind people help him with shopping and such. He continues to move around the facility by himself and he can go out and check his mailbox. As a 90- year old, Albert kept up his physical condition with a daily three-mile walk and by shoveling snow around the facility. He attributes his long life to a sound life-style, exercise and a good diet. He drinks buttermilk and but doesn't touch alcohol. Perhaps a buttermilk company should put a picture of Albert on the buttermilk container and use the slogan made famous by Johnnie Walker whiskey "104 years old and still going strong."
Albert's 100'th birthday
Text Rainer Langstedt, Spencer NY
B&W photos Albert Bosk, Van Etten NY
---
POST SCRIPTUM
Albert Bosk passed away in his sleep on June 23, 2010 at his residence in Van Etten. All of us who had the privilege of knowing Albert will miss him.